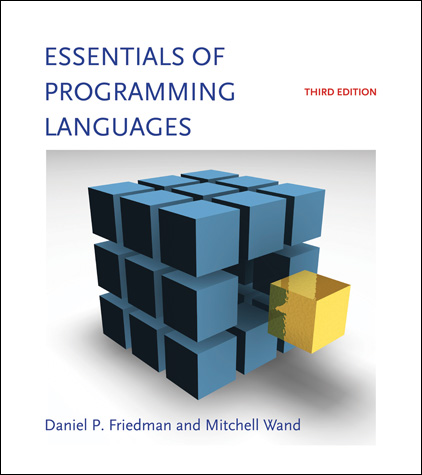 Essentials of Programming Languages
Third Edition
This is the authors' home page for EOPL3.
EOPL3 Materials
The MIT Press homepage.
The code and errata are now on Github. The code has now been updated and should run right out of the box on Racket version 5.3.6. Pull requests are welcome.
To run any of the languages, select "Choose language from source", and run top.scm in any of the language directories (chapterN/*-lang).
Google group for EOPL3. This is intended as a discussion list for instructors and others using any edition of EOPL. Right now, this list is entirely public. If there is sufficient interest, we can create a private group for instructors.
Courses using EOPL (any edition). Please send updates to wand@ccs.neu.edu.
The old home page for EOPL2 for EOPL at Indiana.
The old home page for EOPL1 at Indiana.
Related links
Let us know if you have material that might be added to this list.
---
Last modified: Sun Aug 30 22:04:34 Eastern Daylight Time 2020